The Story of Sweet'N Low
More than fifty-five years ago Sweet'N Low® was a radical innovation. Now it's a familiar part of the American landscape.
---
1945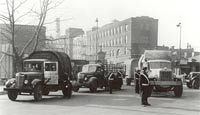 The war was over. With it had gone all the uniformed customers for Ben Eisenstadt's Brooklyn Navy Yard cafeteria. He had four kids and two newly immigrated in-laws to support. He had a vague memory of a tea factory where he had worked (probably illegally) as a child. After he sold the eatery's fixtures, just enough cash remained to purchase one tea-bag machine and a rare lunch out with his wife, Betty.
Naturally he ordered tea, but it was the open sugar bowl that stole the afternoon. Betty had long decried the cafeteria's fly-swarmed sugar bowls as unsanitary. "Wouldn't it be nice if sugar came in individual bags, like tea?" Ben, who was down to his last dollars, could think only of the expense of filling each individual envelope. There had to be a machine somewhere that would cut them from a single roll of paper.
Indeed there was, Betty reminded him. The very one they'd just purchased. Packing sugar couldn't be that much different from packing tea. Besides, sealed bags would be extra sanitary.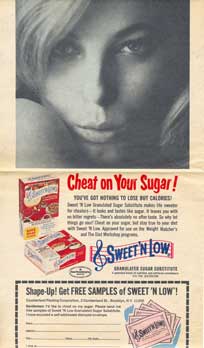 It was almost as easy as it sounded. A few adjustments later and their new machine began producing the world's first packets of granulated sugar.

Ben used the machine to contract pack sugar, and, for a while, CARE packages under the Marshall Plan. When his son Marvin joined the company in 1956, the two began developing machines to package everything, from ketchup to flour to Instant Life. They sold glue to toy companies. They were the first to package soy sauce for Chinese restaurant take-out.
1957

Ben and Marvin came up with the idea for a sugar substitute, Sweet'N Low. The color pink was chosen to stand out in the sugar bowl. The name was borrowed from Ben's favorite song (which in turn had been the title of a Tennyson poem). What Ben and Marvin couldn't plan was the kind of serendipity that brought the musical-scale logo the millionth Federal Trademark Registration. Sweet'N Low received Federal Trademark Registration No. 1,000,000.
Today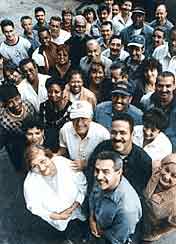 We're still based in Brooklyn on the site of Ben's original diner. But we're also sweetening the rest of the world.
[ top of page ]
---
Satchmo loved Sweet'N Low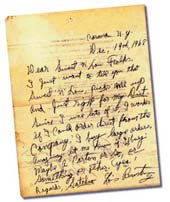 Of course, we sent him lots, yea!, as our gift.

Corona N.Y., December 19th, 1968: Dear Sweet'N Low Folks, I just want to tell you that Sweet'N Low picks me up and is just right for my diet. Since I use lots of it, I wonder if I could order direct from the company? I buy large orders. Anyway, let me know if I can buy maybe a carton or so, or something or other. Yea!

Regards,
Satchmo Louis Armstrong
[ top of page ]