Applesauce Recipe
100 cal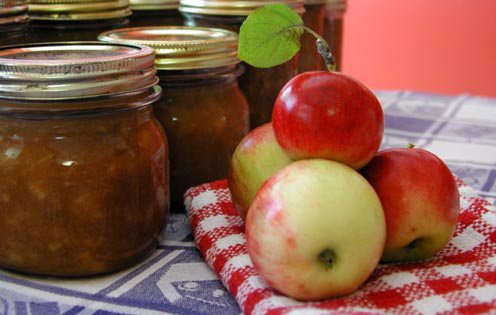 Ingredients
2 quarts water
2 tablespoons bottled lemon juice
2 1/2 pounds McIntosh apples
2 1/2 pounds Granny Smith apples
1 tablespoon plus 1 teaspoon Sweet 'N Low zero calorie sweetener
1 teaspoon ground cinnamon
In a large pot combine water and lemon juice. Core and quarter apples, adding them to the water-lemon juice mixture to prevent browning. Drain apples, reserving 1 1/4 cups water-lemon juice mixture. Return reserved liquid and apples to pot. Over medium heat, cook 20 minutes or until apples are very tender. Place apples in large colander over large bowl. With a wooden spoon, push apples through colander, leaving skins in colander. Discard skins. Return apple puree to pot; add Sweet 'N Low and cinnamon. Over medium heat, bring to a boil.
Spoon into hot sterilized jars, allowing 1/4-inch headspace (or follow jar manufacturer's instructions, if different.) Wipe rims with clean cloth dipped in hot water. Close according to jar manufacturer's instructions and process in boiling-water bath for 20 minutes.

Note: If you choose to freeze applesauce, omit processing step. Instead, let filled jars cook, then place in freezer.
---
featured recipes