Mexican Scrambled Eggs Recipe
163 cal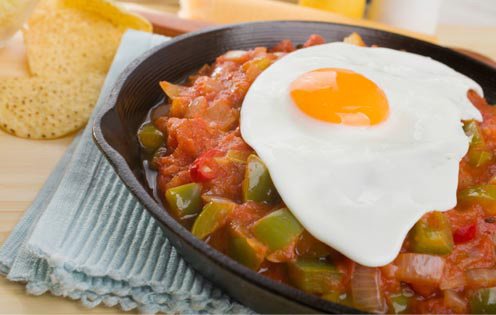 Ingredients
1/2 cup chopped onion
2 ounces reduced-fat cheddar cheese, shredded
1/4 teaspoon Sweet'N Low zero calorie sweetener
1/4 teaspoon garlic powder
1/3 cup low fat milk
2 egg whites
4 eggs
1 fresh tomato, diced
1 can (4 ounces) diced mild green chilies, drained
1 tablespoon reduced-calorie margarine
Chopped green onion and minced fresh parsley for garnish
1. In shallow 8- or 9-inch round microwave dish, cook onions and margarine, covered, on high power 2 minutes. Stir in chilies and tomato; cook, uncovered, 1 minute.

2. In medium size bowl, beat together eggs, egg whites, milk, garlic powder and Sweet'N Low; pour over vegetables. Continue cooking, uncovered, 4 to 5 minutes, stirring frequently to move mixture from outside of dish toward center.

3. Just before eggs are firm, sprinkle with cheese. Do not overcook, as mixture will continue to cook after being removed from microwave.

4. Sprinkle with green onion and parsley. Serve immediately.

---
featured recipes